Eudesmia australis (Orfila, 1935)
Cisthene australis Orfila, 1935. Rev. Soc. Entomol. Arg. 7:225-226.
Vianania australis Orfila, 1953. Physis 20(59):483-484.
[Bendib & Minet (1999) synonymized Vianania under Eudesmia.]
Resumen (español): Eudesmia australis se puede reconocer por las pequeñas manchas anaranjadas en el collar y las manchas anaranjadas subapicales "triangulares" en las alas anteriores. La especie se encuentra desde el estado de Santa Catarina, Brasil, hasta el sur del departamento de Buenos Aires, Argentina.
Resumo (português): Eudesmia australis pode ser reconhecida pelas pequenas manchas laranja no colarinho e pelas manchas laranja subapicais "triangulares" nas asas anteriores. A espécie é encontrada desde o estado de Santa Catarina, Brasil, ao sul do departamento de Buenos Aires, Argentina.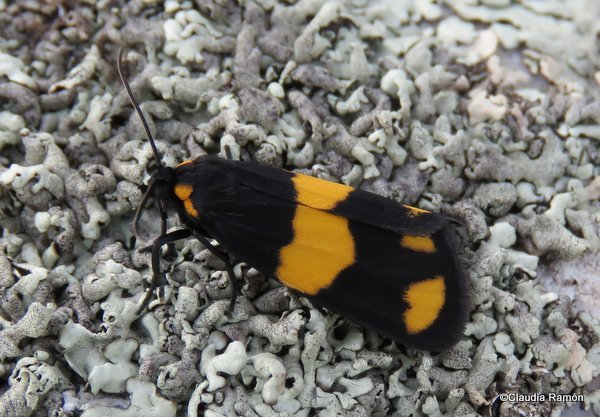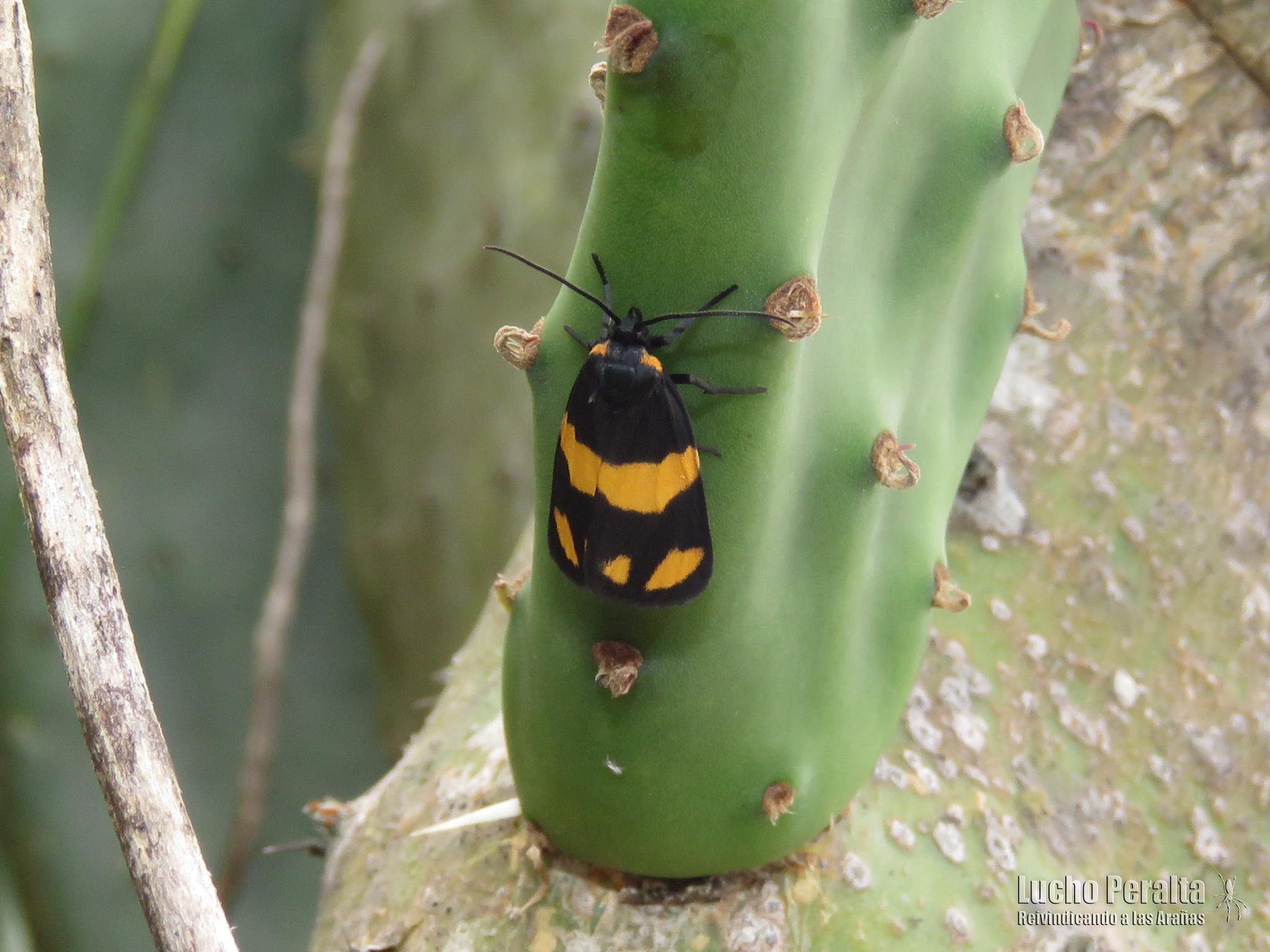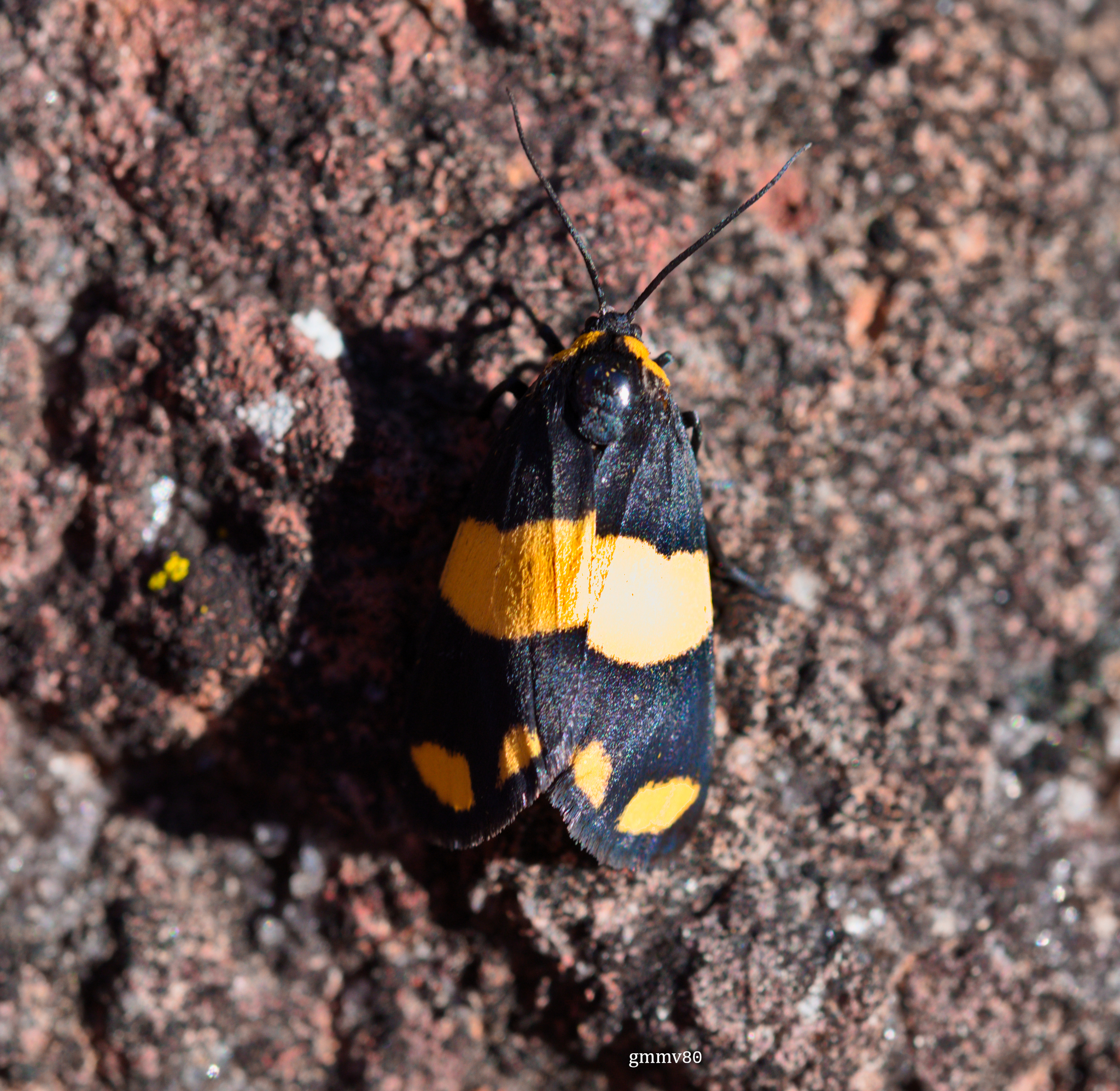 Eudesmia australis: Argentina @claudianr | Argentina @luchoperalta | Uruguay @gmmv80
Like other southern South American members of the genus, Eudesmia australis has (a) two orange subterminal patches instead of one orange crescent, and (b) a median orange or yellow band which often has irregular margins, bulges in the middle, and narrows at the costa and inner forewing margins. Of the two subterminal patches, the shape of the subapical one has been described as "subtriangular" or "triangular" (Orfila 1935, 1953), refering to the fact that the patch is widest in the middle, its basal edge forms a broad obtuse angle, and the distal margin is evenly and gently curved. This is similar to the same patch on E. ruficollis of Brazil and contrasts with the rectangular or crescentic subapical patch on E. argentinensis. The thorax is mostly black with two widely separated spots of orange on the collar, unlike the nearly continuous orange collar of both E. argentinensis and E. ruficollis. There appears to be a general trend for the orange on the collar to be slightly more extensive towards the northern part of the range of this species, thus approaching the continuous orange collar shown on E. ruficollis.
On iNaturalist, Eudesmia australis has been documented from southern Brazil, through Uruguay, and into southern Buenos Aires province, Argentina, where the species apparently overlaps with Eudesmia argentinensis. The westernmost images on iNaturalist are near Tornquist, Buenos Aires Province. The northernmost images are from the state of Santa Catarina, Brazil.

DRAFT map of the distribution of five species of Eudesmia in southern South America. Data are from iNaturalist observations as of 8 December 2022 plus a few earlier records from the literature.
Orfila, R. N. 1935. Lepidoptera Neotropica, II. Dos nuevas especies de Noctuoidea. Rev. Soc. Entomol. Arg. 7:225-226.
Orfila, R. N. 1953. Notas sobre Lithosiidae, I. El género Eudesmia Hb. y un género y especie nuevos. Physis 20:474-485.
Publicado el
27 de noviembre de 2022 15:01
por

gcwarbler